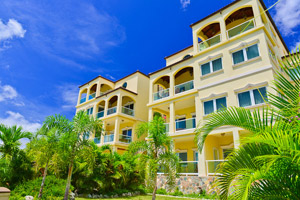 View videographer Jeffrey Clabaugh's video tour of Seashore Allure on our YouTube Channel!
Situated on Turner Bay on the island of St. John in the United States Virgin Islands, Seashore Allure provides an enchanting ocean view featuring the islets of Little and Great St. James and tranquil blue waters beyond. The pebble beach below receives the waves from the bay to create a gentle surf song to enjoy from the pool deck or lanai.
This luxurious condominium complex made its debut in late 2010, and is conveniently located, just a few minutes' drive or a pleasant stroll to Cruz Bay with its dining, nightlife and shopping. The ferry dock is also very nearby, for day trips to the British Virgin Islands or quick jaunts to and from sister island St. Thomas.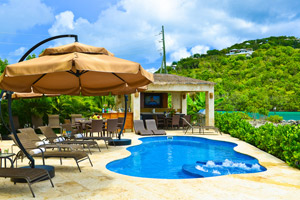 A level walking lane from Seashore Allure guides you through a local residential area, into a small nature preserve and finally into Cruz Bay itself, within 10 minutes. From there, a variety of National Park beaches are accessible within a quick drive or taxi ride. For romantic/couples getaways or adventurous vacations for families, colleagues and friends, Seashore Allure is a most excellent choice.
Beneath the thatched pavilion is a gas grill plus 46-inch satellite TV, and plenty of tables, for dining out of doors. There is an adjacent powder room and shower for all guests of Seashore Allure. The condo office supplies washers and dryers (the two- and three-bedroom units come with laundry facilities in each unit). Also in the office, receive personal assistance and use the printer for preparing your boarding passes.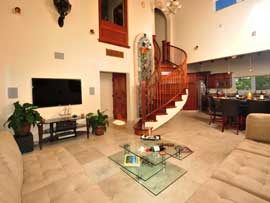 Eight well-appointed and soundproofed condo units with full kitchens provide all amenities including central air-conditioning, plus on site management. On the main level are four one-bedroom units. The second level includes two two-bedroom units, and the third level contains two more units, each with three bedroom suites. On the uppermost level is a hot tub with spectacular views of the clear waters below.
Conveniently modern in every way, Seashore Allure offers a variety of configurations, styles and decor to suit the discriminating traveler.
---
For weddings, family reunions and large gatherings, all 8 of Seashore Allure's units (14 bedrooms) may be rented together at published rates.
View the Seashore Allure Wedding Policy
SEASHORE ALLURE® is a registered trademark.
McLaughlin Anderson Luxury Villas is not affiliated nor sponsored by Seashore Allure.