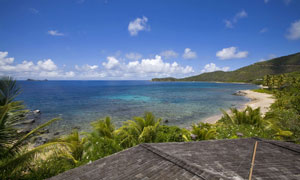 A visit to the Nail Bay Estates is an excursion to the ultimate paradise! This 148-acre estate is on the island of Virgin Gorda in the British Virgin Islands - one of "Nature's Little Secrets"®! The shoreline features three lovely beaches that vary from white sand to live coral reefs for your splashing, sunbathing, and snorkeling pleasure. Nail Bay Resort staff will assist you with fun recreational activities such as parasailing, SCUBA dives, powerboat rentals, sailing, bocce, croquet, spa services, or even a delicious meal prepared and served in the privacy of your villa!
McLaughlin Anderson Luxury Villas is pleased to offer the Sugar Mill, Sunset Watch, and Full Circle villas on Virgin Gorda's Nail Bay Estates and Resort.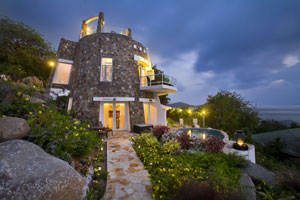 Sugar Mill (left) features two distinct bedroom suites, one above the other, each with its own private pool. A 10-minute stroll from here puts you on Mountain Trunk Beach, or drive down to the path in about a minute. Each suite is separate, but both may be rented for two couples or an active family. Garden Suite or full villa renters have access to the lower entertainment center which features a flat-screen TV and a its own gourmet kitchen, as well as a world of electronics including Wi-Fi for your laptop.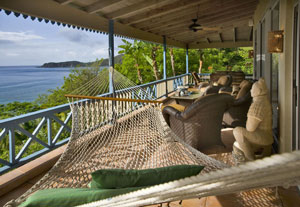 Sunset Watch is situated within the Nail Bay property and (right) also features two levels. The villa's Upper and Lower Decks each have a king bedroom suite (with advance notice, the lower suite's king may be made into two twins), a common al fresco dining area with gas grill, and a stone staircase leading down to the Nail Bay Beach. Both decks have well-appointed kitchens, central air-conditioning, comfortable living areas, WCs and outdoor showers.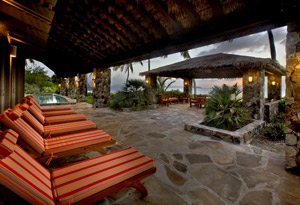 On the Nail Bay Beach at the water's edge is Full Circle (left), a modern and deluxe three-bedroom beach villa. Three pavilions house the main living area, a Master Suite, and a two-bedroom Guest Pavilion. Just perfect for friends who happen to be couples, honeymooners, or a family, Full Circle's unique location permits a wealth of relaxing enjoyment by the pool or on live reefs or white sands. Style + Nature!

Guests will also have access to the Spa at Nail Bay (and its signature Sailors Massage), Sugarcane Restaurant (with its swim-up bar and nearby hot tub in boulder garden), tennis courts, grocery provisioning, and In-Villa Dining services.



NAIL BAY RESORT® is a registered trademark.
McLaughlin Anderson Luxury Villas is not affiliated nor sponsored by Nail Bay Resort.